I can't spell Hamammelis (?), and spell check only gives me words like hammerlocks and hammertoes, so I'll use the familiar name.
This actually was in bloom about a month ago. A nice subtle native that is rarely planted or even found at a nursery. It blooms when few things do, is deer resistant and is a nice dark green in the summer. What's not to like?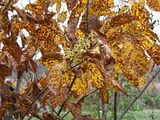 Another native is this Ilex verticillata (Winterberry Holly) that was grown from seed I collected in the swamp. To the right is Malus sargentii, appearing red from the load of fruits on it this year. Photo from a week ago.