I have tried five times to remove the word "swimming" in the fourth paragraph! I did not write it in the original text and it refuses to be removed! When I go to the edit portion of this thread it does not exist but it returns every time I hit submit. I do not know what kind of game the computer is playing but there is no such thing as a "swimming" flower!!
All the names I suggested are commonly collected genera (genus) found in the family Araceae (aroids). Perhaps some are not popular in Europe but in the United States and Asia they are enormously popular.
Ever hear of a "Peace Lily"? That is
Spathiphyllum
. Grow Pothos? That's an
Epipremnum
. A Flamingo Flower? That's an
Anthurium
. Every one is an aroid.
I can tell you the technical definition of an aroid but I promise that will confuse people even more.
Aroid is the common name for the family Araceae., a family of approximately 3300 species in 116-120 genera. An aroid is a plant that reproduces with an inflorescence including a spadix surrounded by a modified leaf known as a spathe.

The spadix is a central fleshy spike on which both sexes of imperfect flowers (single swimming, male or female), or in others perfect flowers containing both sexes, are formed.

The spathe is not a flower.
The most popular aroids found in collections include
Philodendron, Anthurium, Colocasia, Alocasia, Xanthosoma, Caladium, Spathiphyllum (Peace Lily), Epipremnum (Pothos), Monstera, Dieffenbachia, Calla Lily, Amorphophallus, Syngonium, Dracontium, Rhaphidophora, Scindapsus, Typhonium, Anubias, Arum, Schismatoglottis, Spathicarpa
, and others.
Most people either don't understand or don't care to understand there are close to 1000 species of
Philodendron
, another 1000 species of
Anthurium
and many other house plants they commonly grow but have next to zero understanding regarding their true nature.
I'm sorry that Wikipedia appears useless on this subject but I generally find it useless when anything technical is involved. In this case I find its definition to be relievedly accurate.
I have been asked to write for their "encyclopedia" but they want it all done for free. That is exactly why so much information on their site is, well let me put it kindly.....worthless. I can show you at least 40 posts on their board regarding aroids that are totally bogus. The author obviously wrote what "they believed" and never did one second of research in a scientific journal.
If you are interested in learning about aroids then the best site on the web is the International Aroid Society: http://www.Aroid.org
I do my best to maintain a site that is easily understood by collectors. We have over 1/2 million hits each year and the projections for this year (according to StatCounter) is closer to three quarter million hits. I receive daily hits from all over world (same source) so it is obvious there are tons of people around the world interested in this plant family. They just don't know what the name "aroid".....or worse, "Araceae" means.
This morning's hits: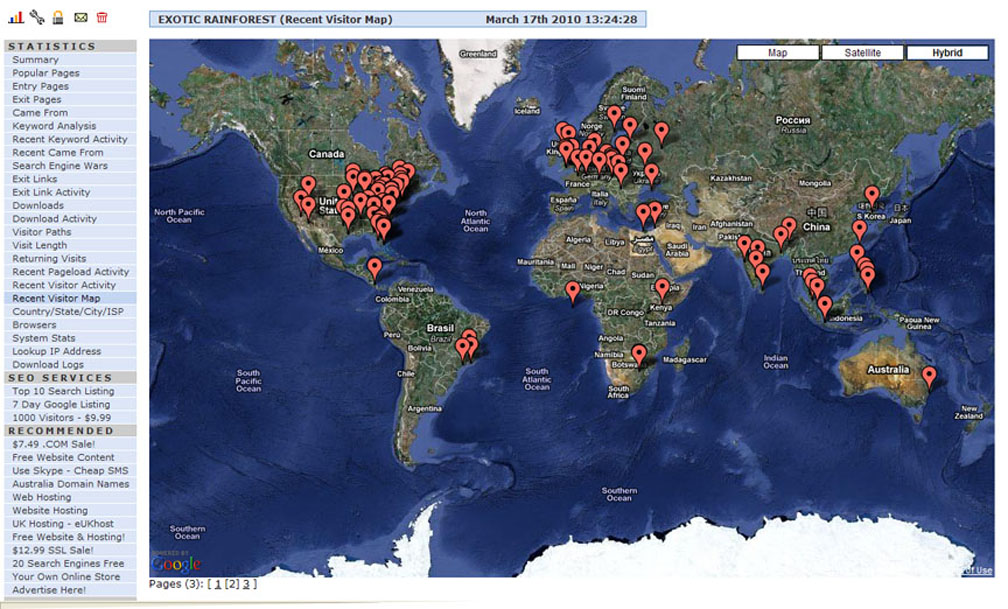 http://www.exoticrainforest.com/
Thus my request to try to help them along while also helping the users of this site.
Last edited by ExoticRainforest on Fri Mar 19, 2010 8:53 am, edited 19 times in total.